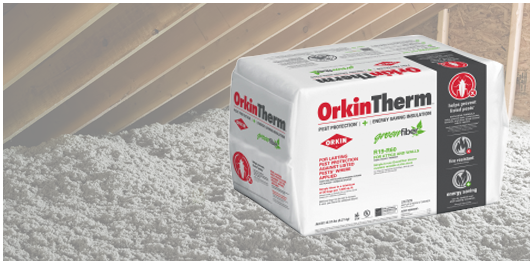 Make Your Home Comfortable for Everyone Except Pests
Protect your home from pests and save energy with OrkinTherm
Controlling energy costs is a top concern for homeowners. Substandard insulation in your attic, garage, or crawlspace causes energy to escape and utility costs to go up. Extreme temperatures in these areas may limit storage space and reduce the life of your HVAC system. Fortunately, Orkin offers responsible solutions to help reduce energy waste.
OrkinTherm blown insulation helps keep energy in and contains boric acid, a natural pest insecticide that helps keep pests out of areas where the product has been applied.
For expert installation by the Orkin Man, call 877-639-8885 or fill out the following form or and we will contact you right away.

*Effective against cockroaches, termites (including Formosan termites), ants, silverfish, earwigs, crickets, sowbugs, darkling beetles, millipedes, centipedes, and booklice.

Call to schedule installation now!
Get Your No Obligation Quote Now
A specialist will contact you as soon as possible.

At Orkin, we take your privacy very serious and never share your information.
For more information on privacy, read our full Privacy Policy.