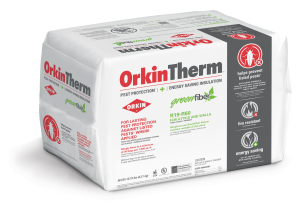 OrkinTherm
Keeping Energy In and Pests Out
As a homeowner, you're bound to encounter problems managing energy costs and pests. At the root of both problems lies inadequate attic and wall insulation, which can lead to heating and cooling loss, as well as entry points for unwanted pests. Looking to solve both problems? Now you can with OrkinTherm.
Together with GreenFiber, Orkin developed OrkinTherm, the world's first and most effective way to simultaneously create a preventive pest barrier and a thermal barrier against energy waste. With OrkinTherm, homeowners can save thousands of dollars on escalating utility expenses and ongoing pest management treatments. Plus, OrkinTherm is the environmentally friendly choice: made of 85 percent certified recycled material, OrkinTherm is the only pest management product labeled by the EPA that also bears an Energy Star label..

*Effective against cockroaches, termites (including Formosan termites), ants, silverfish, earwigs, crickets, sowbugs, darkling beetles, millipedes, centipedes, and booklice.